Welcome to Pontefract Upholstery Ltd official site
Take a look through our pages and see transformations in our before and afters, browse completed work see different fabrics vinyls and leathers get ideas for your own home. Maybe you will find bespoke furniture thats ideal for your tastes in our for sale items.
Our work ranges from repairs to total recovers on contract and domestic work also replacing foams in seats and back when gone saggy and sad.
We are always happy to accomodate each individuals needs so feel free to contact us by phone,email,facebook or drop into our shop on Tanshelf industrial estate
Phone: 01977 792849
Mobiles: Trevor 07904753025 Russ 07792089438 Jennie 07463734682
Email:pontefract.upholstery@gmail.com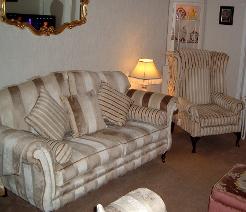 We are a family run business that has over 35 years experience.

We pride ourselves on Quality customer service from start to completion of every job.

We will be happy to help anyone that contacts us.
No job too big or small!
DOMESTIC Furniture
Pub and Club Seating
Chairs, Footstools, Headboards etc.
Restaurant/Hotels
Nursing/Care Home Sector
Doctors/Hairdressers
Reception Furniture
Caravan Seating
Repairs
Cushions and Sundries
Supply only.
FREE Estimates